Follow us on Facebook at Nyanza Guest Cottages, Riding Stables and Farm yard <![if !vml]>

<![endif]> or Nyanza Stables (for our horsey news only) <![if !vml]>

<![endif]>
---
OUR FARMYARD ANIMALS AND VISITING CHILDREN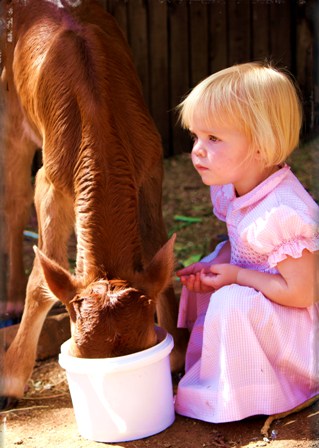 Our farm is a working farm. As well as the dairy cows and the horses we have a wide variety of other animals here in the farmyard. Some are rescue cases and others are here to help with the education of our visiting school children and other young guests as to how to care for and handle animals.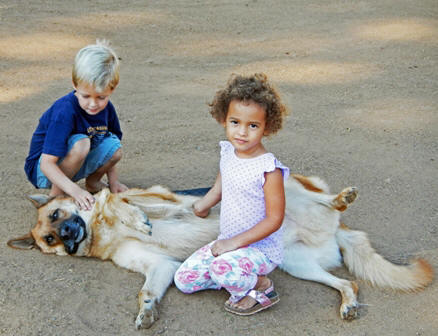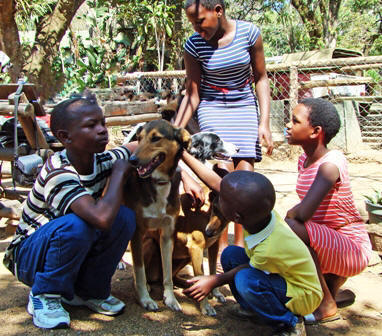 Nyanza has a lot of children visiting and we always take pleasure in watching them enjoy the farmyard and interact with the animals. We have many of them, from the dogs and cats to all the farm animals and they are good natured and kind. A lot of them of them originate from troubled pasts or have special needs and have their own story to tell. It makes for an interesting visit and a wonderful way for children to learn the importance of compassion and kindness.
So often today children grow up without much exposure to animals and this is a wonderful opportunity to remedy that gap. It is gratifying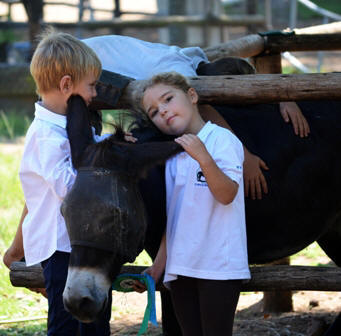 watching them as they meet all the animals and learn to interact with them and their various personalities.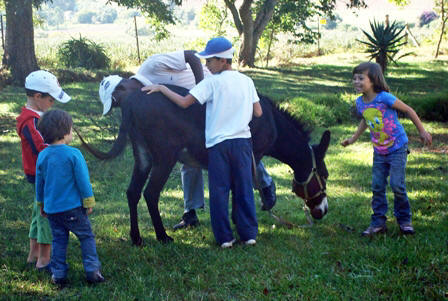 Mbali the donkey came in with her son Burri after he was run over by a car. With her friendly personality she is one of the chief attractions and has the knack of making each little person feel extremely loved and wanted. She loves to be groomed and fussed over by them and children staying on the farm spend many happy hours with her. One of her favourite habits is going down to the cottages to join her latest adopted family on the lawn.
Chaklas and her daughter Chukka are two of the cows from the dairy who always enjoy having visitors. They are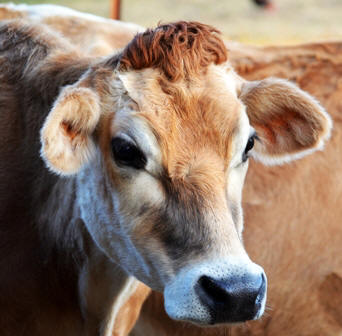 very calm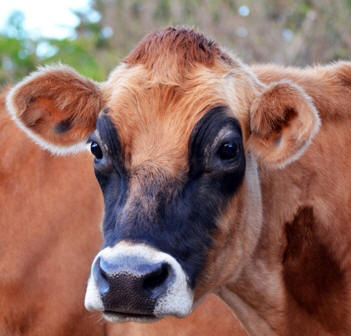 and gentle and their favourite treat is to have their topknots scratched.
The little Jersey calves are another great attraction. They are small and cute and helping feed them is a whole new experience for city children.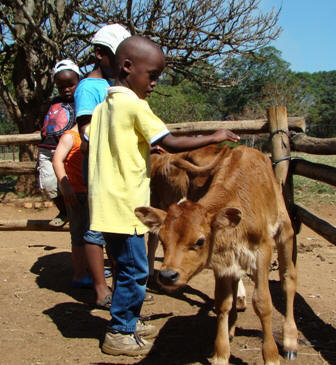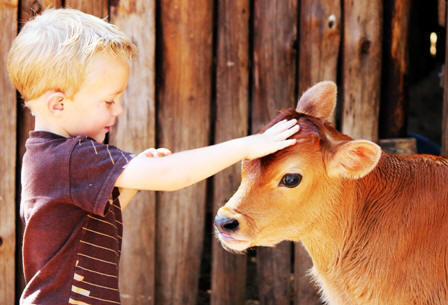 Jigsaw, Puzzle, and Sheepish are our two goats and the sheep (we have just gained another sheep, Lambada, please see the Latest Additions page for her story) who help with education during the school visits. They also discuss the farmyard and its activities with our children from the cottages. Jigsaw is part miniature goat and of course is extra cheeky to make up for his lack of size!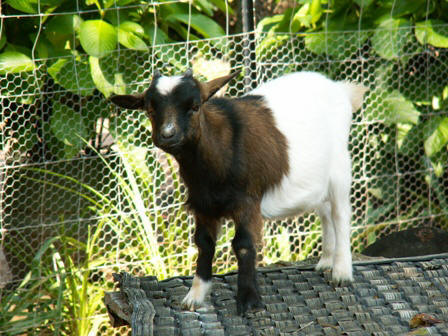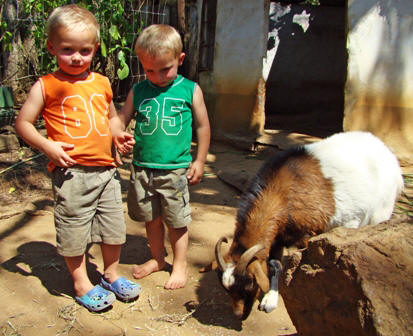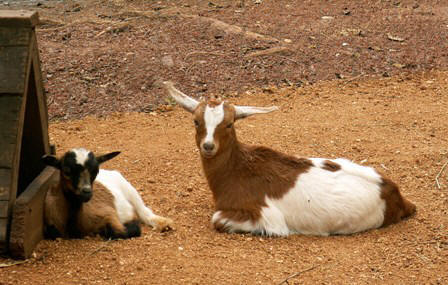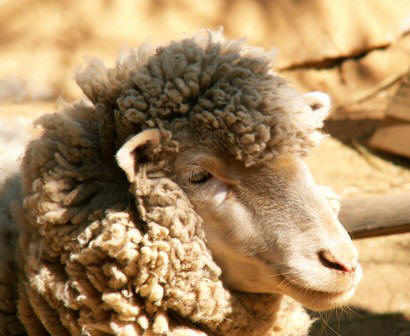 Sheepish is very sweet and gentle and oh so cuddly with her woolly coat. She is ever so grateful she came to Nyanza when she was young rather than head the same way as her brothers and sisters. Even though she is a bit shy she loves having visitors.
Then we have the rabbits who have all been saved from the pot on various occasions, including the ones we call the Nhlangano takeaways... they were being sold on the side of the road in the Nhlangano area for someones evening meal when we saw them. We have gained a few others since then...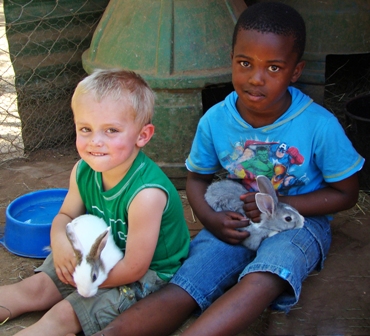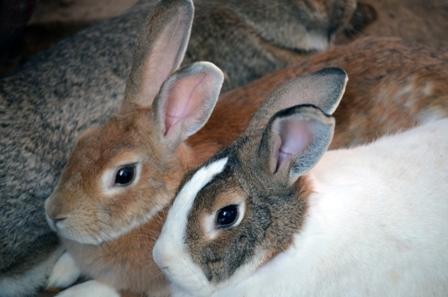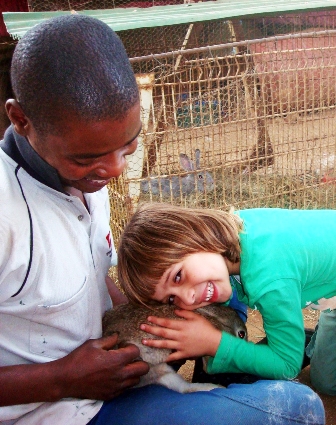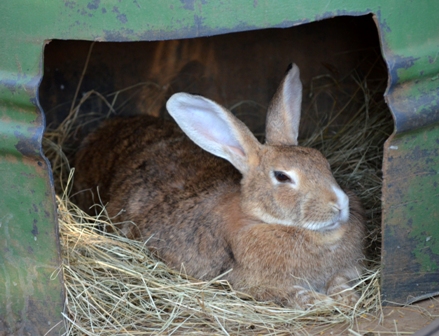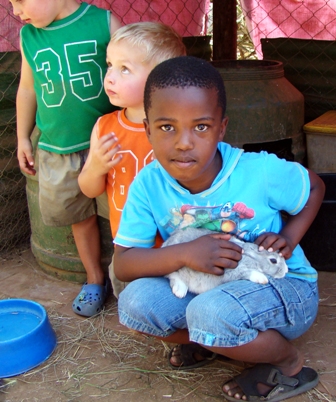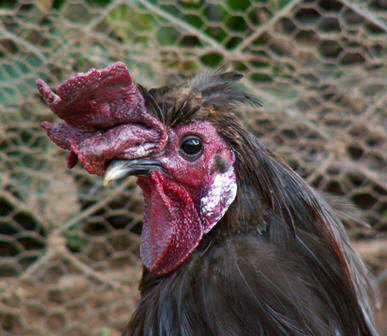 Our chickens are a mixture of various breeds, including Bantam, Polish Pomeranian, Silky and more, which makes for some very interesting looking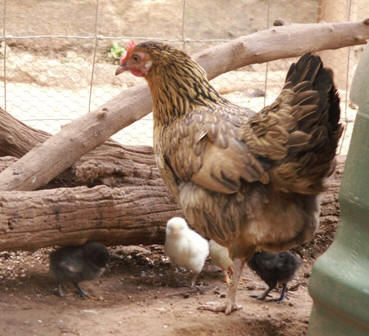 characters. They are usually very good parents and at any given time there are large families of cute fluffy chicks running around.
Hoppy and Elvis... are two of our chickens with special needs... Elvis is very old and practically blind, and Hoppy has only one leg. We found her with her leg mangled; she must have been stepped on by a horse. It had to be amputated. Luckily our local vet is used to our eccentricities. She is amazing, getting around on one leg as well as any other two legged chicken and raising batches of chicks. The two of them go around together as our odd couple with two of their children, Memphis and Tennessee.
Scatterbrain is another unique chicken... you can imagine her from her name...
As well as the chickens we have the ducks, turkeys, peacocks, geese and guinea fowl.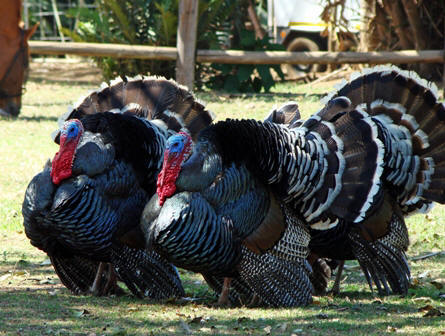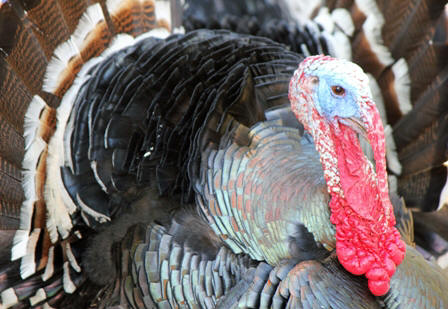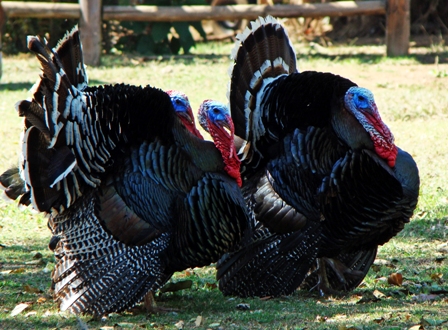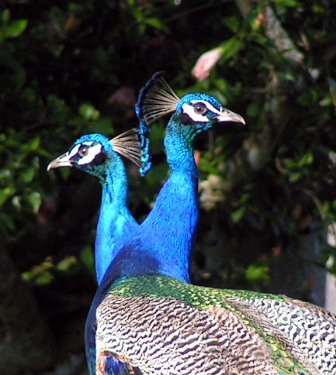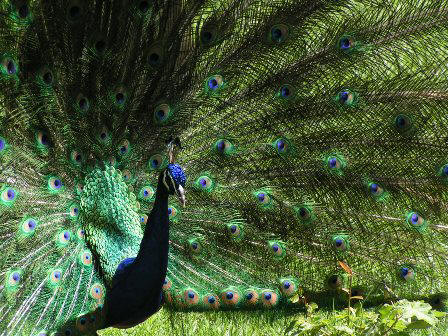 The turkeys are always at their most impressive around Christmas, as if to impress us and show how much they are needed here; they donít seem to realise that none of our animals are in danger of the pot. They are gorgeous in their ugliness.
The peacocks are beautiful and during mating season spend hours displaying their splendid plumage. Their speciality is parading in front of the cottages seeking admirers.
Our guinea fowl come in twice a day to be fed and their flock makes an impressive show as they come across the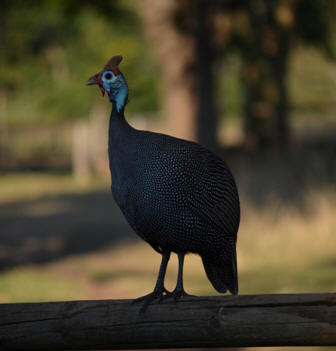 paddocks. They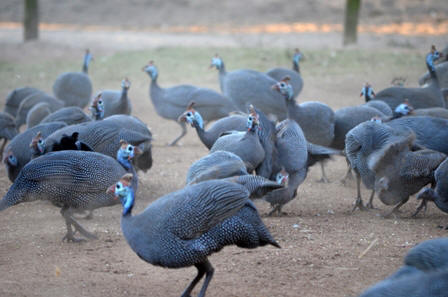 work hard keeping our insect pests under control; during outbreaks of Army Worm, which can literally decimate the grazing, their help is invaluable.
All the poultry is fed twice a day and helping with this is a favourite job for the children staying on the farm, scattering the maize and watching them all come running.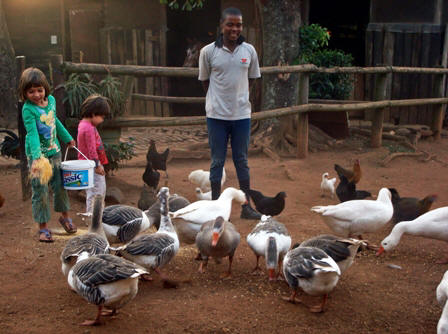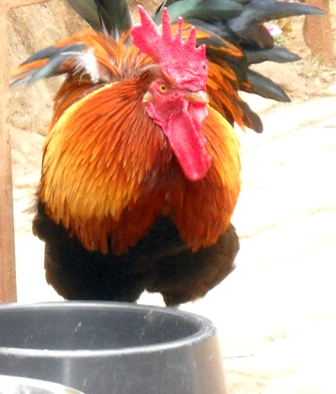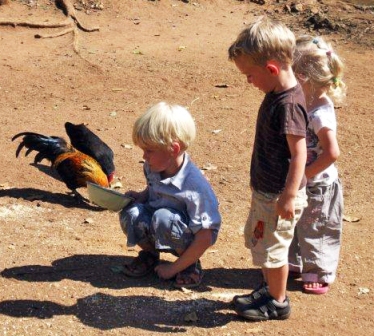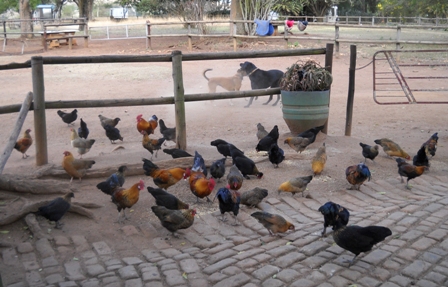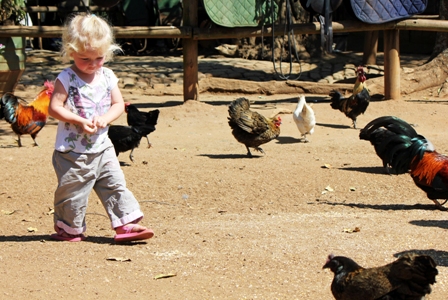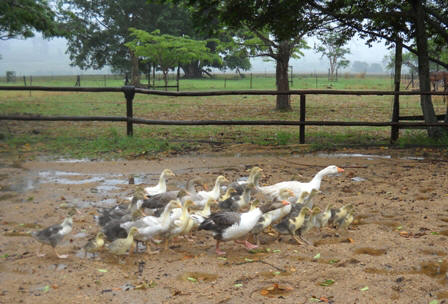 ---
Welcome to Nyanza Farm.htm / Why Stay at Nyanza.htm / Nyanza Guest Cottages.htm / Nyanza Family Lodge.htm / Around Nyanza Places to visit and things to do.htm / Nyanza and Swaziland General information.htm / Our farmyard animals and visiting children.htm / Our Dogs and Cats.htm / Latest Additions.htm / Nyanza Ethos and a few of our past rescue cases.htm / Nyanza and the Community.htm / Nyanza Jersey Dairy.htm / Our Riding School.htm / Meet our Horses.htm / Nyanza and Equestrian Competitions.htm / Our Stable Management and Liveries.htm / Contact Us.htm
---