Follow us on Facebook at Nyanza Guest Cottages, Riding Stables and Farm yard <![if !vml]>

<![endif]> or Nyanza Stables (for our horsey news only) <![if !vml]>

<![endif]>
---
OUR STABLE MANAGEMENT AND LIVERIES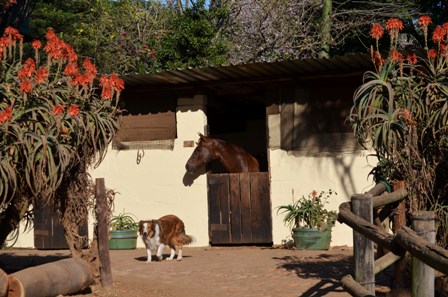 MANAGEMENT
The stables are run by Wandy Williams and Ann Davies. There have been horses at Nyanza since 1968 and Wandy officially opened the riding school was in 1983. Ann has extensive experience of working with horses for many years both here and abroad. (Please see our riding school page for more details.)
Besides Wandy and Ann there are the senior instructors, the trail guides, a team of grooms, a person who manages the tack-room and a night-watchman.
The horses are important to us. We take great pride in all of them and their well being, from the highly bred competitive stars to the dearly loved old family pet. They are bright-eyed, happy and secure in their environment.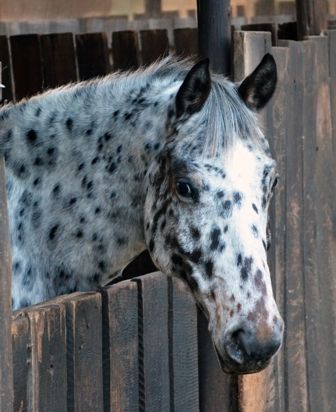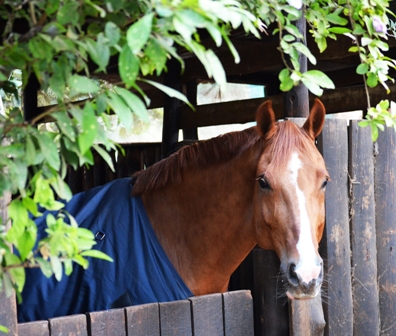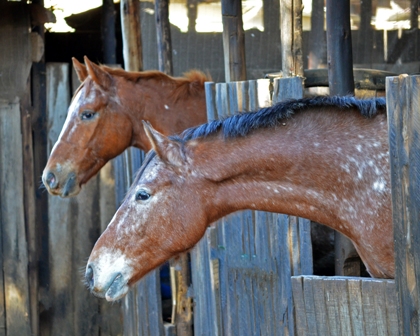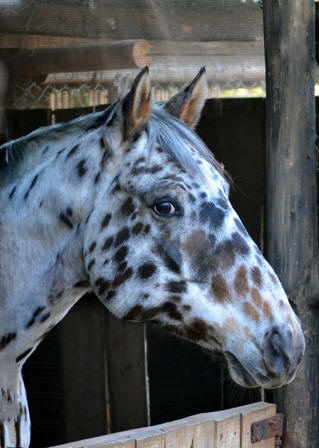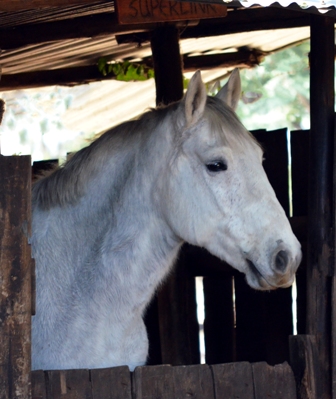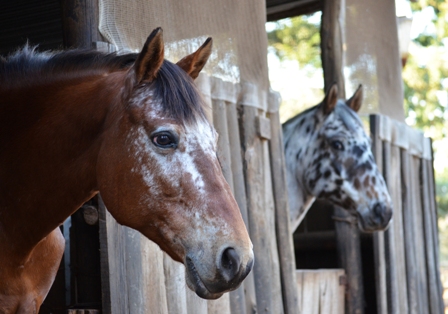 ---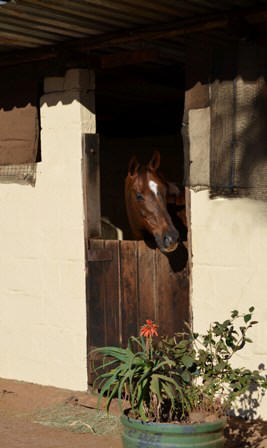 The Stables and Paddocks
All horses are stabled at night.
Most of our stables are of rustic design, which blends in well with the countryside atmosphere. We use shavings for bedding. Our stables all have automatic water systems and the night watchman who monitors the animals checks these are running smoothly during the night.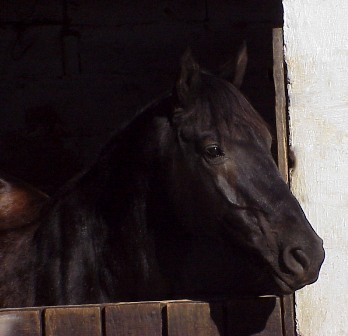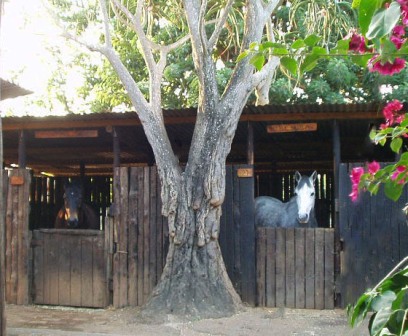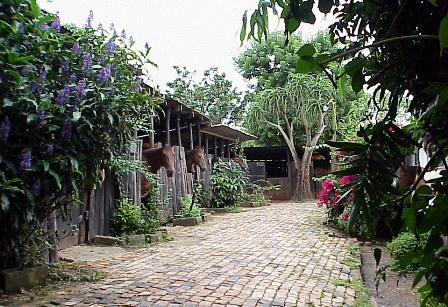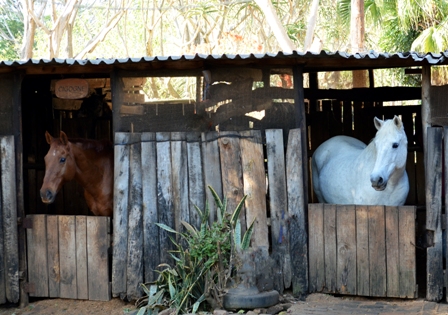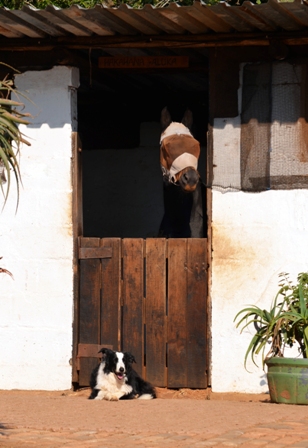 Our small paddocks are post and rail and our large paddocks are two strands of 8 gauge wire. One strand is electrified with an animal strength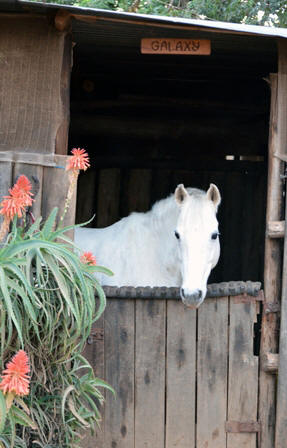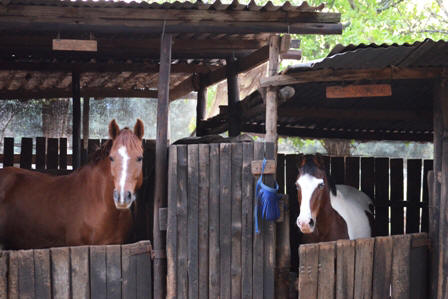 energiser. Our external fences are full eleven strand 1.8m high security fences and their gates are kept locked at all times.
There is water at all times in the paddocks - each paddock has a water trough with an automatic float valve. Water troughs are cleaned every morning.
We have approximately 10 hectares of paddocks altogether. Most of them average about 4000-5000 square meters in size. Droppings are picked up every 5-7 days. The paddocks have well matured compost spread on them at least once a year and are regularly fertilised.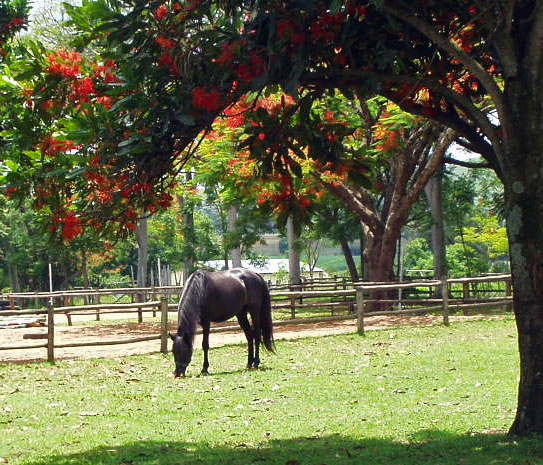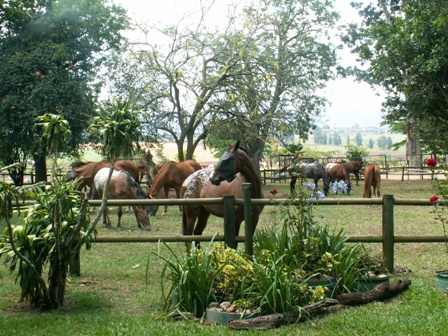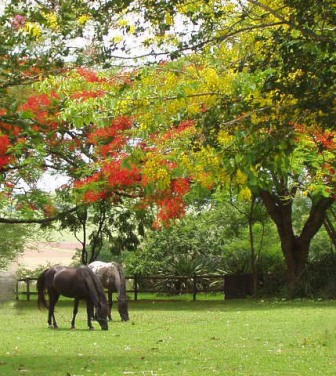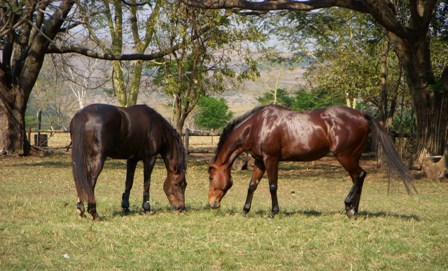 ---
LIVERIES
Nyanza Stables offers your horse a competent, balanced lifestyle with many new friends to talk to and to graze alongside in our well maintained grassy paddocks.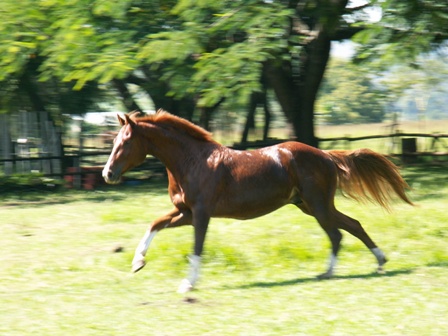 We have livery facilities for:
Short term visits for intensive schooling packages for horses and riders who keep their horses at home or elsewhere but would like to benefit from the expertise available here.
Those who keep their horse privately or at home, but need a 'Horse Hotel' where they can comfortably leave their horse when out of the country - imagine being able to relax and enjoy your holiday without any worries as to his well being!!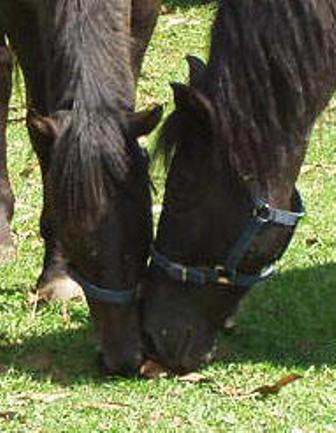 Permanent residents of Swaziland who either do not have the option of taking care of their own horse or would like everything taken care of for them. This provides peace of mind for the horse's welfare while allowing them to spend more time enjoying their riding.
People in neighbouring countries who have horses that need some time out in the countryside.
It may be young horses who need time to grow, injured horses needing rest or old horses who have worked hard and earned a peaceful retirement. We find that horses from the big cities such Gauteng thrive in the climate and atmosphere of Nyanza Farm, losing all their stresses and tensions.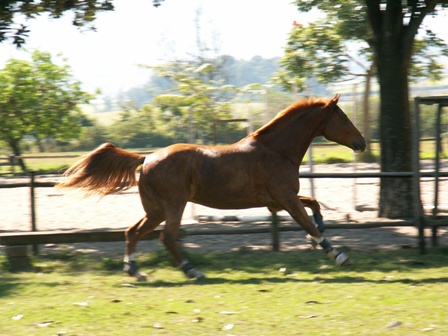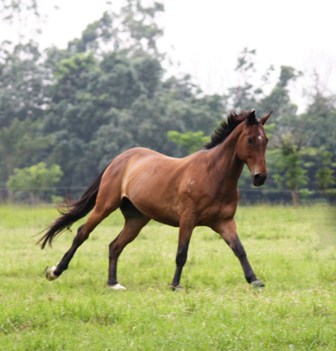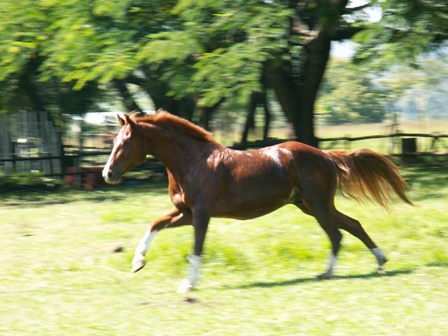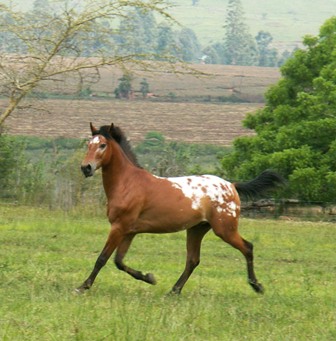 It is ideal for young horses not yet ready to go into full work, or those whose owners would like them to start their working career with some valuable schooling and education here on the farm. The farmyard ambience and country life gives a horse confidence and provides safe 'bombproofing' for those young skittish horses. There are different levels of schooling available for those who want to give their horses a head start in their competitive careers before returning home. For those who would like it their horse can also be hacked out round the countryside.
---
Schooling and Exercising
We have several choices open for the livery owner at different rates. These include schooling, lunging or hacking by Ann or senior staff, handwalking by selected staff members or a combination of some of these options.
For those who would like to they can choose or make up an exercise and training program that suits them, their horse and their budget.
---
Daily Routine
The horses start their day at 7.00 am when they are fed their first meal of concentrates. They are then all groomed and go out to the paddocks from 9.00 am onwards.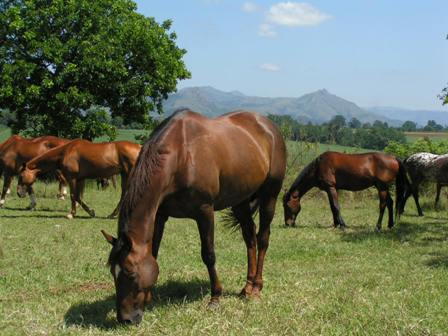 We have a couple of groups that graze together, and then some special cases that we keep separate from the others - for example our golden oldies. They have their own little herd in a private paddock with their friends.
For those who for some reason can't go to the main paddocks we have small ones close by where they are in the middle of the daily action so that everyone passes them and they get extra attention. If they are in the small paddocks they are given a haynet while in the big paddocks we usually manage to have good grazing all year round. If the grazing is not sufficient in winter then we supplement with hay or cane tops during the day.
The horses that get lunch (depending on their condition and workload) come in at 12.00 to eat and then go out again immediately afterwards.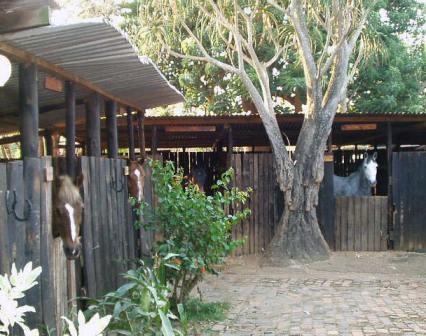 Between 3.00 and 3.30 pm they start coming in for the night. Those who need blankets in winter are blanketed but owners are requested to provide their own. They get their evening concentrates at 4.30 p.m. and then their napier fodder or cane tops is divided into three feeds during the night.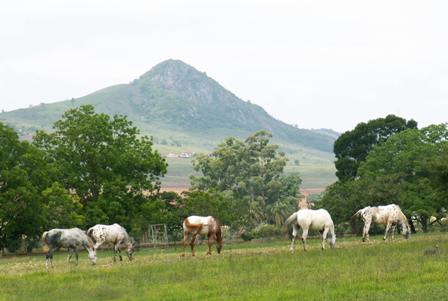 Evening stable rounds are after the 5 o'clock feed, when each horse is checked, and then we check them again just before we go to bed. There is also the night-watchman who keeps a careful eye on the horses and cows once the rest of the staff have gone off.
We also personally do patrols and spot checks during the night.
---
Feed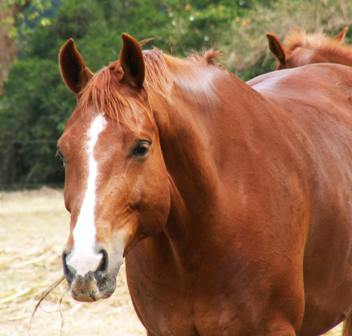 We feed our horses a recognized brand of balanced horse cubes from a prominent feed company. Each horse has its ration individually calculated depending on its age, condition and workload. Owners also have the option of supplying their own food at a different livery rate.
Our feed room has a resident team of cats (see our dogs and cats page) who protect the feed against rodents as they can carry diseases such as leptospirosis to the horses.
We feed napier fodder (Pennisetum purpureum) or cane tops to the horses every evening, and eragrostis or teff. We are lucky in that in our area sugar cane is grown for seed cane so it is not burnt to harvest - this means they get a fresh juicy green supplement in winter, which they enjoy and also keeps their digestive system working well when everything else is dry.
Our hay is imported from South Africa and is good quality, either eragrostis or teff.
They graze from approximately 9.30 a.m. to 3.00 p.m. The grazing is roughly 50% stargrass and 50% kikuyu (a couple of the paddocks have a little amount of veld
grass mixed in).
---
Insect Control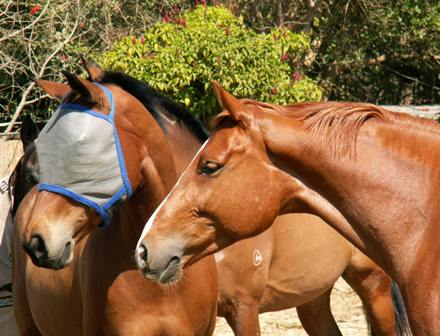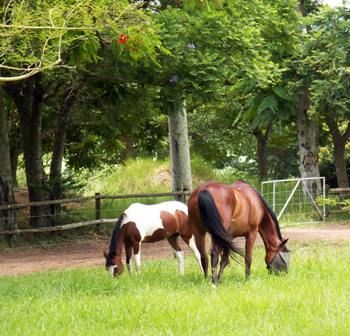 In summer we dip for ticks and flies every ten to fourteen days. In winter we dip if there is a tick or fly challenge. We also have an ongoing fly breeding control program on the farm. We prefer them to have fly protection if possible so we ask all livery owners to supply either a fly fringe or a fly veil.
For those who would like to supply insect repellents for their horse against midges we spray them when they come in during the afternoon.
Vaccinations and Deworming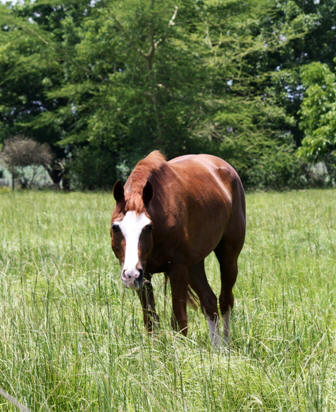 All horses are fully vaccinated and these are kept strictly up to date. New horses are de-wormed on arrival. All horses are all de-wormed every 6-8 weeks.
Shoeing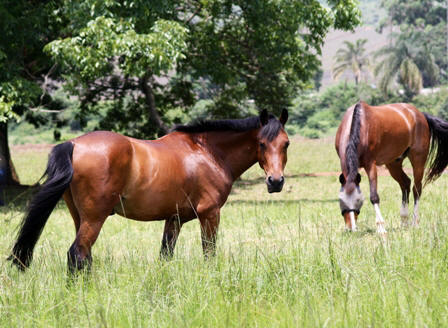 Some of the horses are barefoot while other require a half or full set. Private owners are free to bring in the farrier of their choice.
Veterinary
Minor ailments are treated by Nyanza staff while for serious problems veterinary help is sought.
---
Climate
We are in the Middleveld, so have a very pleasant climate - not too hot in summer or too cold in winter. In summer the countryside is lush and green but in winter it does dry out.
---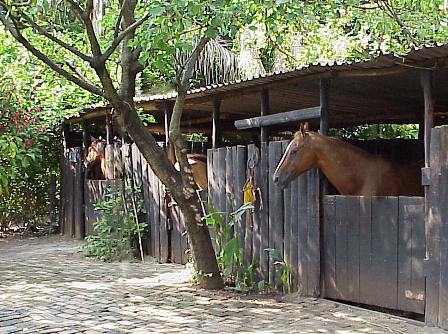 Livery Rates and Payment
Livery fees are due in advance, at the beginning of each month. Extras such as shoeing, de-worming, vet medicines, etc are paid at the end of the month. If a vet, farrier or equine dentist is called in then the owner is directly liable for the account.
We offer an early payment discount if you pay before the 10th of the month.
Livery fees do not include lunging/schooling/lessons, shoeing, de-worming, extra feed, inoculations or veterinary. They do include dipping.
Please contact us if you would like more details about our rates for all the various services we offer.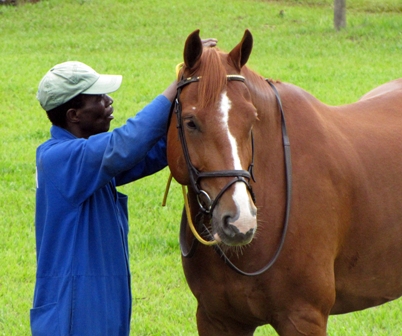 ---
Welcome to Nyanza Farm.htm / Why Stay at Nyanza.htm / Nyanza Guest Cottages.htm / Nyanza Family Lodge.htm / Around Nyanza Places to visit and things to do.htm / Nyanza and Swaziland General information.htm / Our farmyard animals and visiting children.htm / Our Dogs and Cats.htm / Latest Additions.htm / Nyanza Ethos and a few of our past rescue cases.htm / Nyanza and the Community.htm / Nyanza Jersey Dairy.htm / Our Riding School.htm / Meet our Horses.htm / Nyanza and Equestrian Competitions.htm / Our Stable Management and Liveries.htm / Contact Us.htm
---