Follow us on Facebook at Nyanza Guest Cottages, Riding Stables and Farm yard <![if !vml]>

<![endif]> or Nyanza Stables (for our horsey news only) <![if !vml]>

<![endif]>
---
MEET OUR HORSES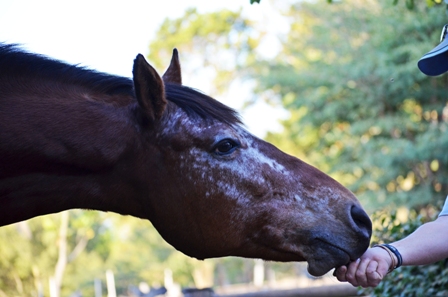 We would like to take you on a 'virtual tour' and introduce you to some of the Nyanza horses....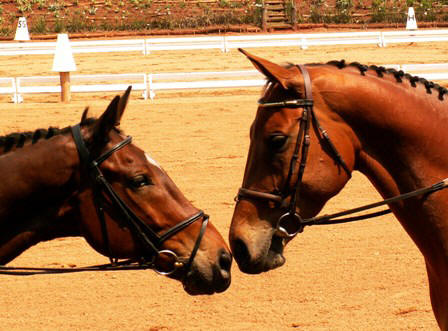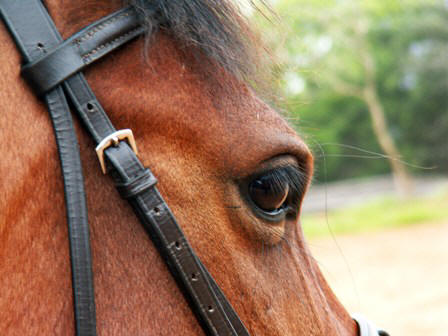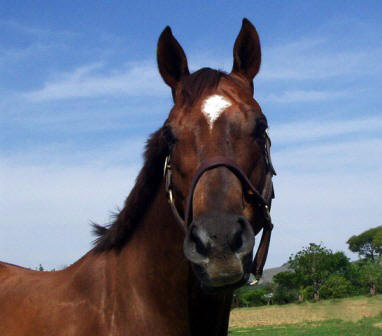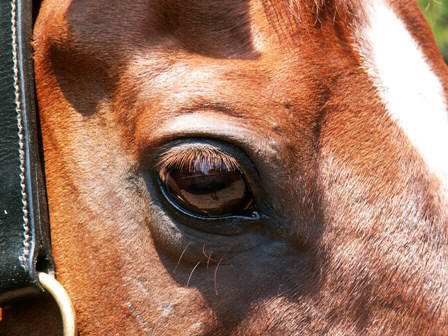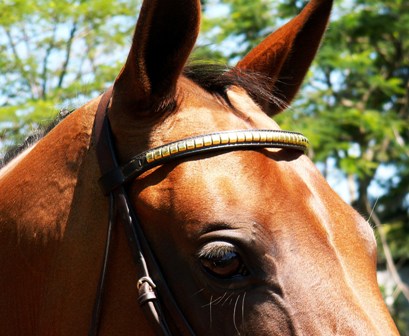 MOSSANDI RHEA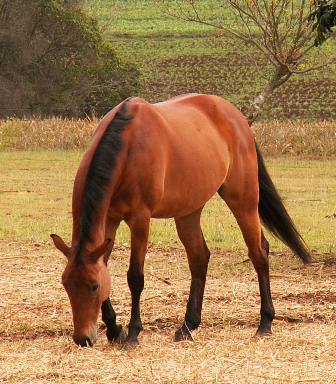 Rhea is by Ramirez Furi (G. Ramirez Z) out of an Aurelius/Free Ride mare. A big powerful Warmblood mare with amazingly extravagant movement, she has exceptional quality and knows it!
A trace of Thoroughbred in her pedigree gives her extra lightness and with lots of presence she carries our flag high in the Advanced Dressage competitions. Over the years she has been with us she has won every prestigious competition she has competed in, both in Swaziland and South Africa.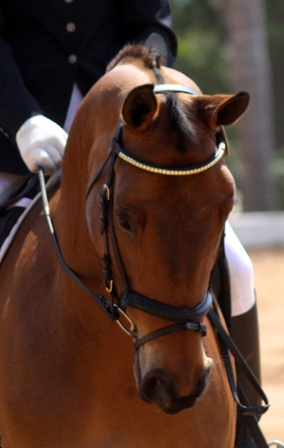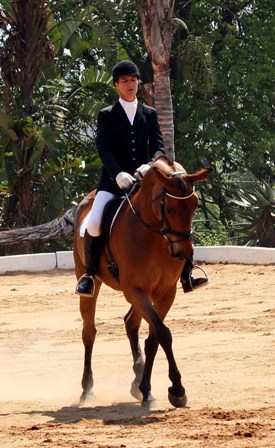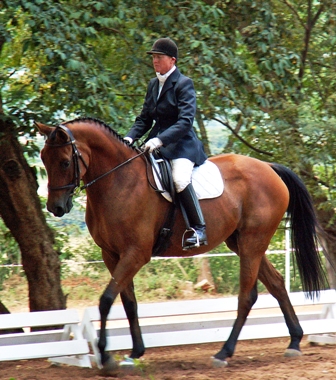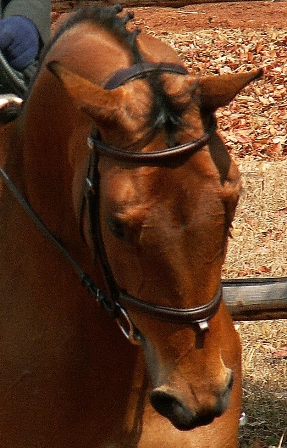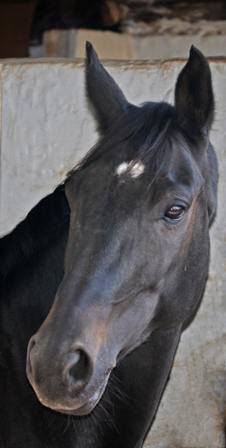 HAKAHANA ALUKA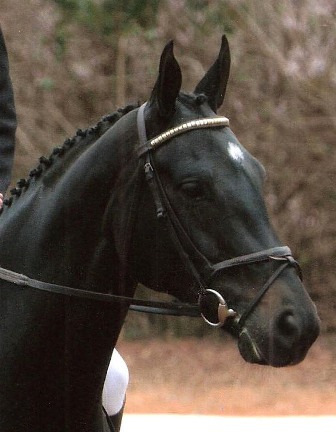 Is a very elegant dark bay, almost black, Warmblood mare who has immense presence. Both her parents were imported from Germany; her sire was Attila (Akzent/Ferdinand) and her dam Parana, who was by the mighty Pik Bube. With those bloodlines she is a natural at Dressage and has already excelled in competition. At her first FEI Dressage event she tied for first place with a Namibian horse and her second year she won overall first place of the entire group in the Elementary level. We have great hopes for her future career.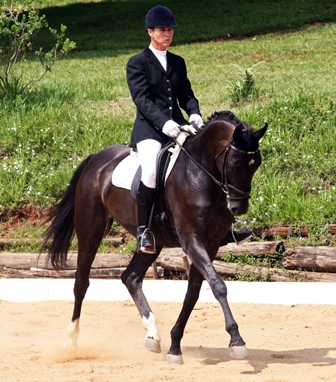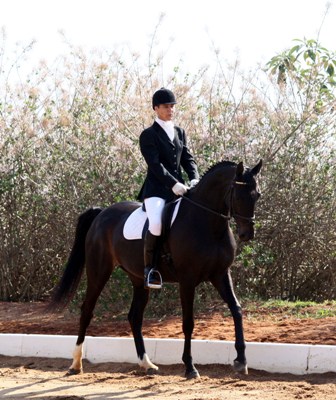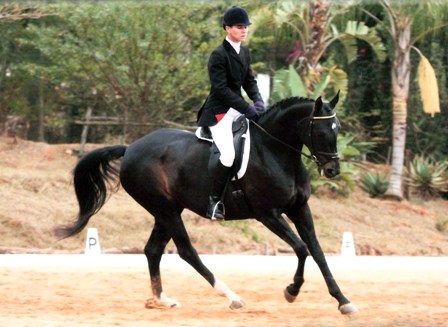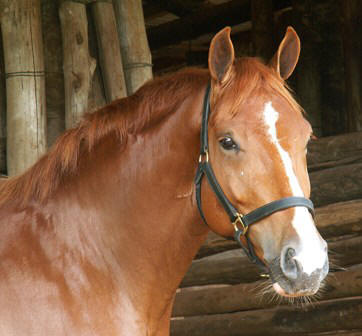 SWAZI LIZKHAR LITTLE WONDER (Stable name NAVARRA)
Navarra is a gorgeous chestnut Warmblood. Both his sire and dam were also imported from overseas. His mother Larinera was a State Premium mare by Larinero (Ladalco/Fuerstenberg) out of a State Premium mare Buschblume (Pik Trumpf/Burschikose). He is good looking, intelligent, mischievous and exceptionally talented; what a combination! He has both the movement for dressage and an outstanding jump and quickness of foot for show jumping. He has not yet specialised in one discipline although his dressage results at FEI level have always been outstanding and get better each time.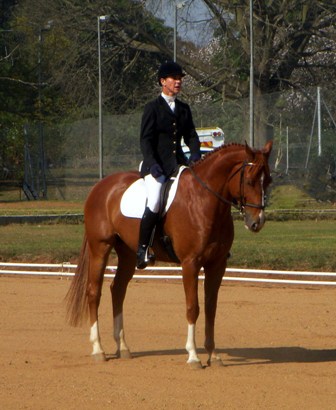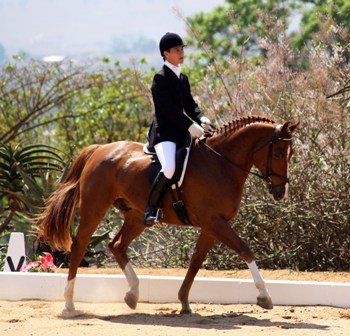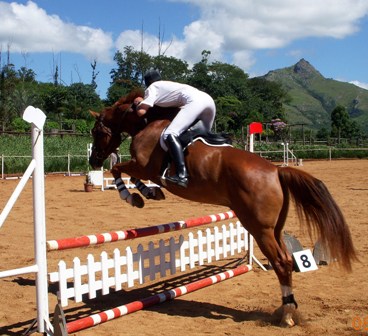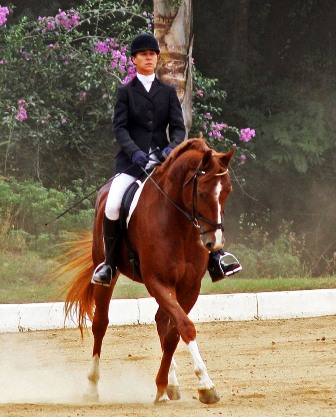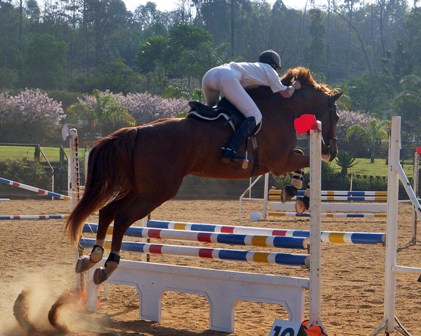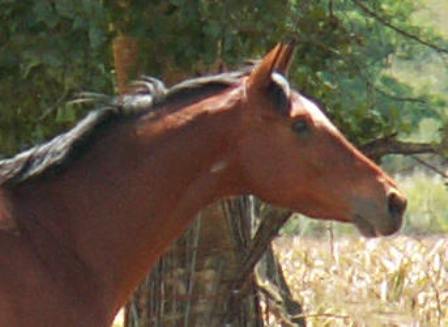 SWAZI LIZKHAR UNDER THE STARS (Stable name TUANA)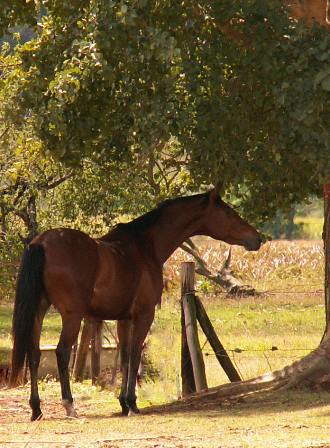 A South African bred Warmblood, Tuana came to us from the Swazi Likhar Warmblood Stud which is situated near us. She is by Mayfair Wundervogel, who goes back to Wachman III, out of a Randel Z/Even Beat mare. She is a nice big framed bay mare with wonderful rhythm and a strong personality.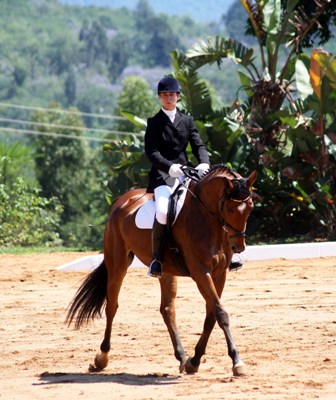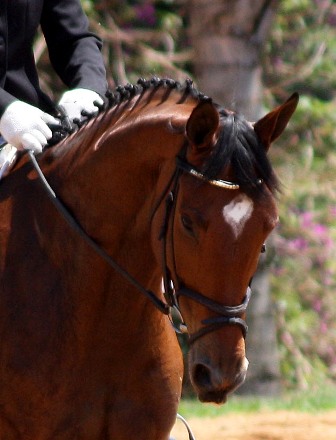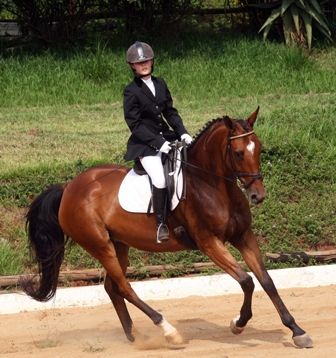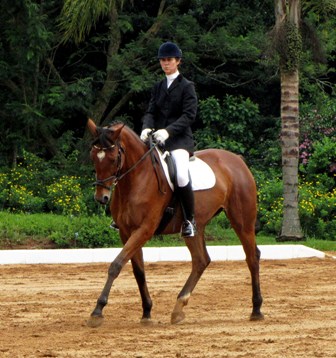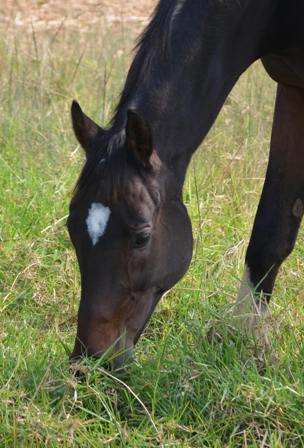 TIGER'S TRAIL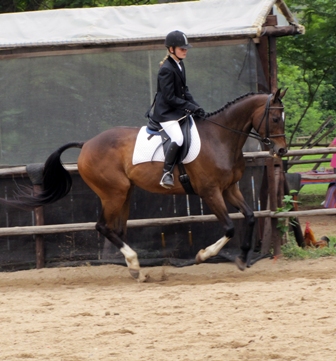 An extremely kind and nice natured Thoroughbred gelding, Tiger came to us after a dressage career in South Africa. He now loves to patiently teach his young riders the intricacies of the sport. He is very affectionate and especially enjoys those who take the time to fuss over and cuddle him before and after their ride.
MAESTRALE, JAMBORASCA AND RAINBOW
Are all Appaloosa's by the same sire, Maluti Freckles. All three horses have inherited a wonderful temperament and stunning colouring from him.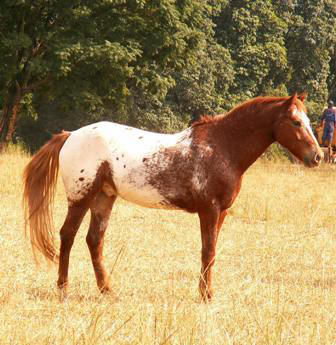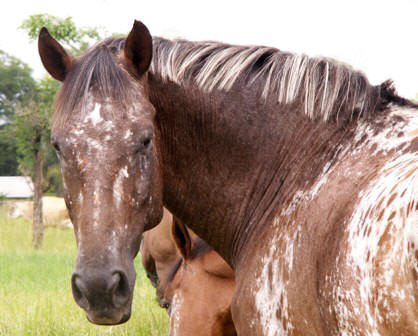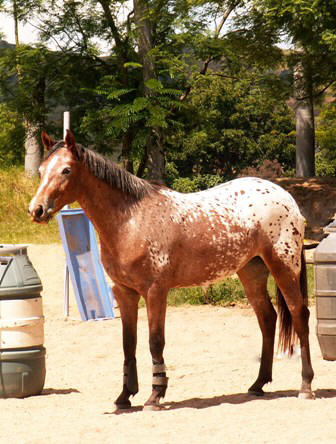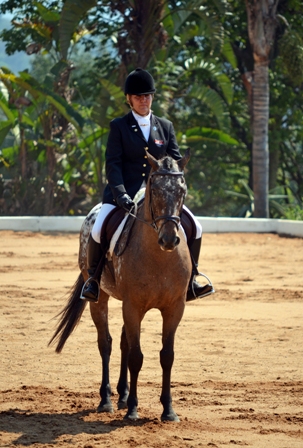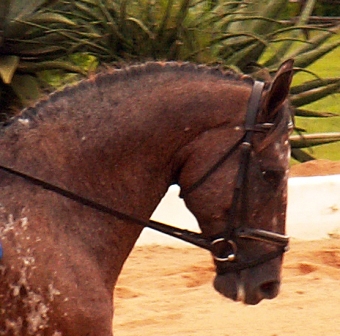 MAESTRALE
Is a gorgeous good looking gelding with an equally wonderful personality. He is steadfast and reliable and will do his best what ever you ask of him. His forte is dressage and with his attitude of calm concentration he is always high in the placings. In 2011 at the FEI World Dressage Challenge he and his rider scored the highest score of the whole competition.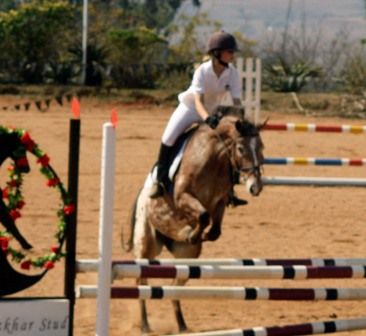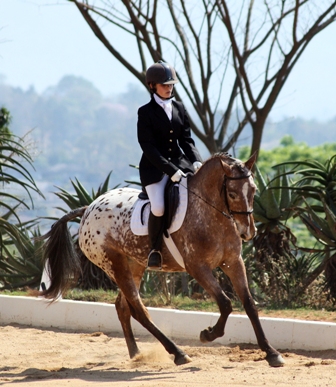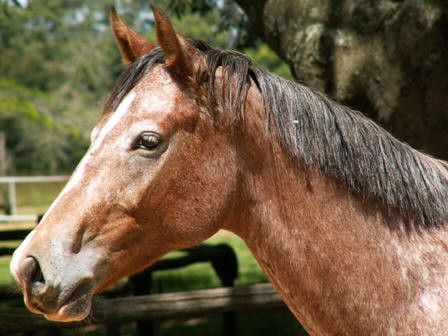 JAMBORASCA
Jamborasca is a very feminine and pretty chestnut roan with a white blanket who knows she is beautiful! She competes successfully in both Dressage and Show Jumping and with her young rider won overall first place in the Children's Preliminary class of the Zone 12 FEI World Dressage Challenge in 2011.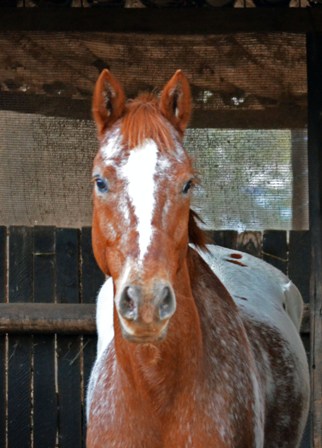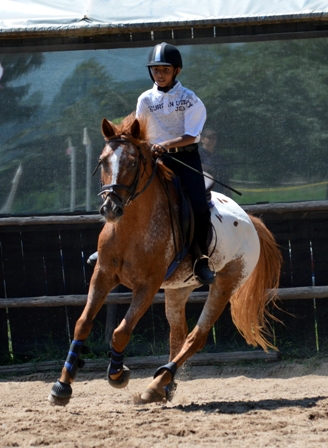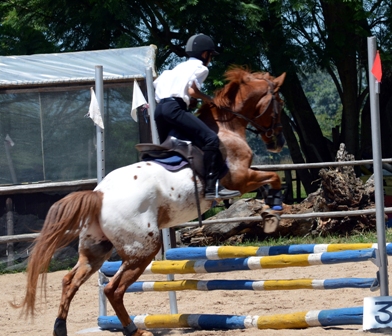 RAINBOW
Rainbow is a solid chestnut with a white blanket and calm steady nature. He is a favourite both in the riding school and on the trails, with his bright colour and easy reliable good nature.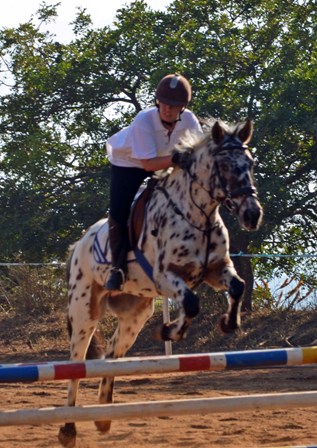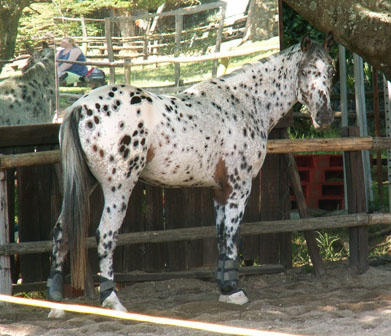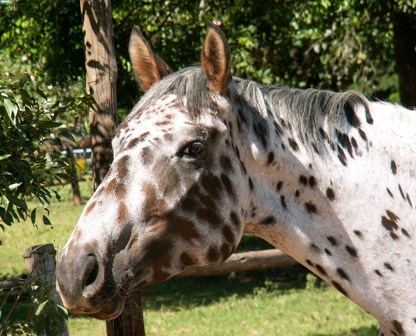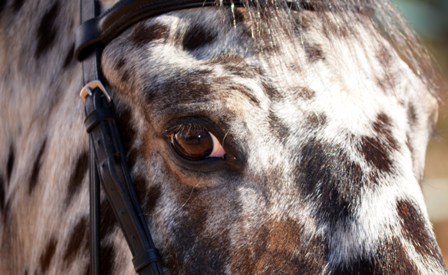 PINPOINT and SPOT DECISION (Stable Name DIZZY)
Pinpoint and Dizzy are half brothers. They are both Leopard spotted Appaloosas from the same sire, Shoshone Sambuca (who is by Shoshone Day Dreamer) and carry bloodlines from some of SA's top Appaloosa Studs; Jaydee, Shoshone, Alpha and Maluti. Both of them work in the school, on trails and in competition and their unusual markings cause comment wherever they go.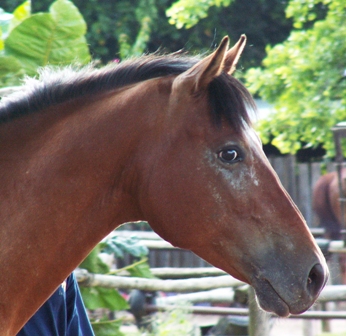 BIG SKY ALABAMA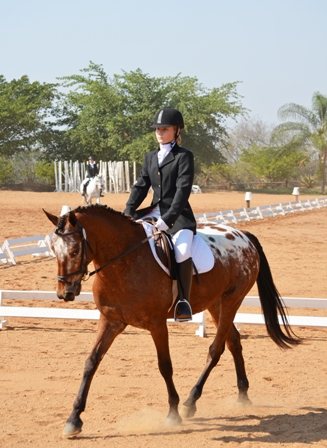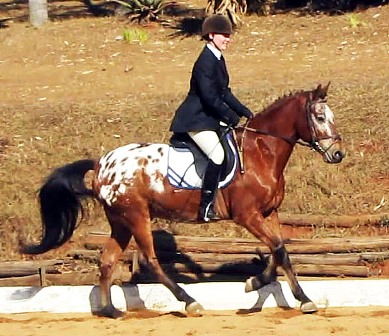 Alabama is a beautiful bright bay Appaloosa with a big white blanket full of spots. Both his parents were from Alpha Appaloosa Stud and he has traces of Thoroughbred in his pedigree. He has a wonderful personality and tries his best at whatever you ask of him. He excels at Dressage and Show Jumping but yet is suitable for the nervous novice, making him one of our most useful horses.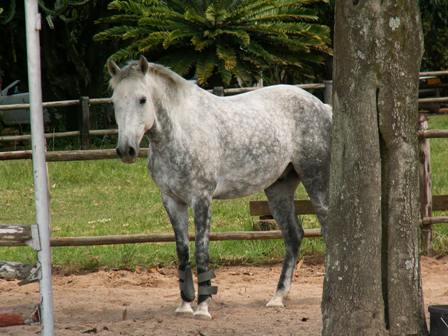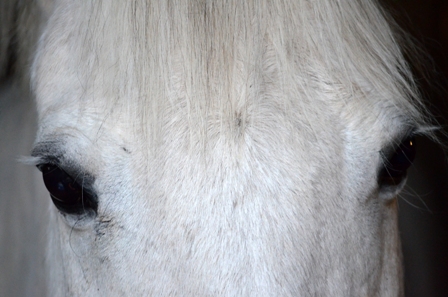 GALAXY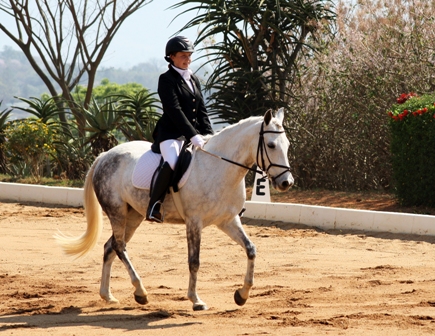 Is one of the most steadfast characters of our stables. He is a very sweet little dapple grey pony of unknown breeding, possibly part Nooitgedacht, who will look after the youngest child, but also go out and hold his own against quality competition in both Show Jumping and Dressage.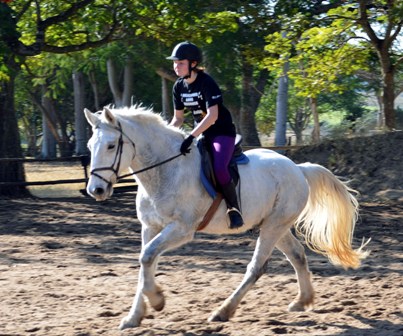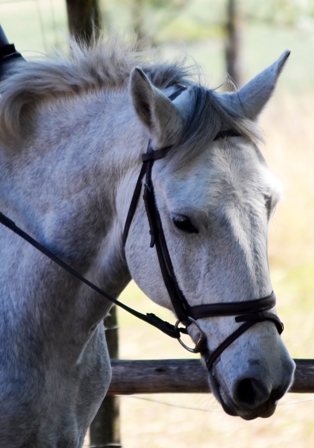 SUPERLINK
Superlink is a nice solid and trustworthy Boerperd/Percheron cross. He has a kind nature, is steady and reliable and great on both trails and in the school.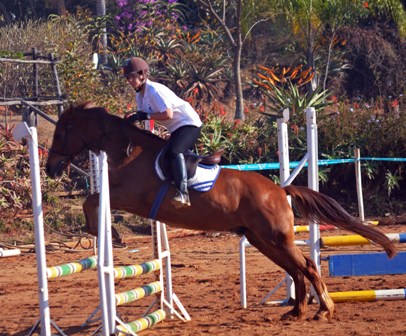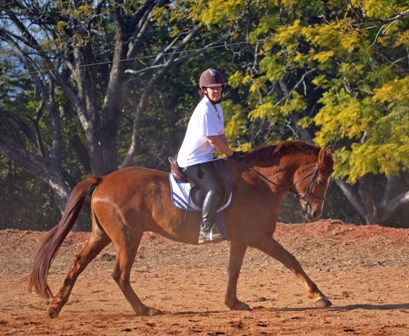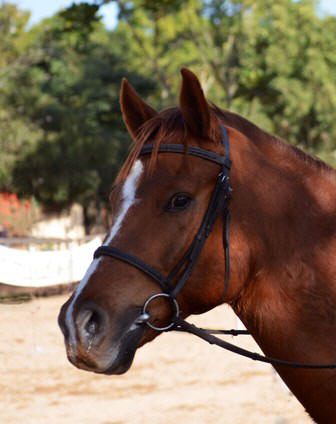 LEGACY
A sweet chestnut Boerperd gelding, Legacy is kind and honest. He is rather laid back, and although he loves to go out on trails he will also do his very best at competition, often bringing home show jumping rosettes for his riders.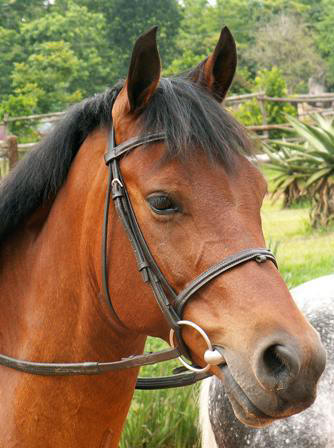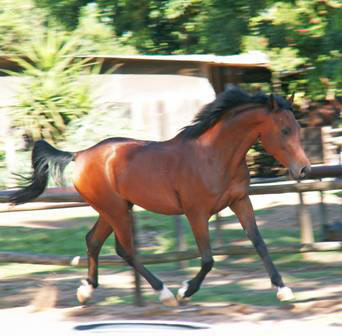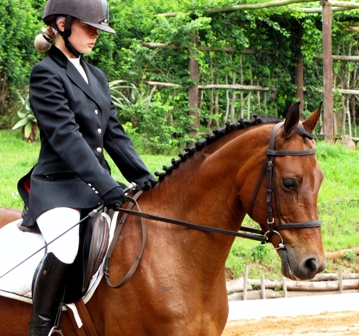 CHEROKEE
With more than three quarter Arab blood Cherokee is an extremely elegant pony and very eye catching in the arena. His sire was from Namibian endurance blood lines so he is tough and hardy but yet his looks fit the show ring perfectly. He excels in what ever discipline his young rider asks of him and has given many of our children the opportunity to be proud.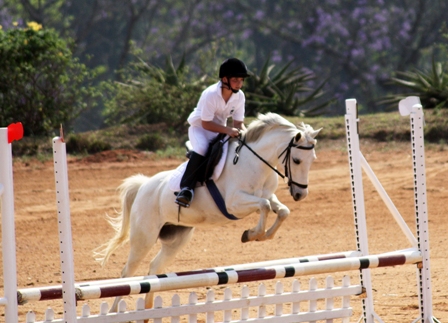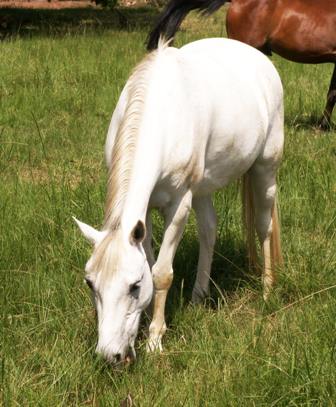 CHUPA
Is another pretty little pony, a Welsh/Thoroughbred cross. Her duties include teaching our youngest children to ride and taking them to their first competitions. With her quiet nature, small size and colour she is also popular for pony rides with the littlest ones.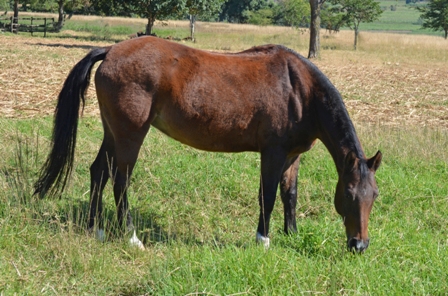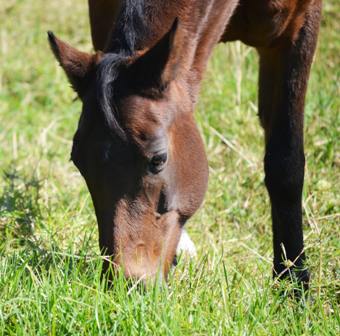 NONO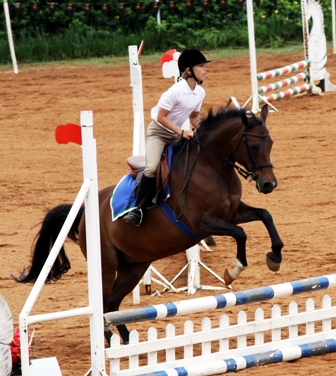 Another of our ponies for the smaller ones, Nono is a Arab/Welsh cross who is very quiet and safe to ride. She does lessons, trails and ponyrides but also enjoys her turn in competitions. Many are the children who have safely and successfully completed their first course of jumps on her back.
---
SOME OF OUR GOLDEN OLDIES AND RETIRED HORSES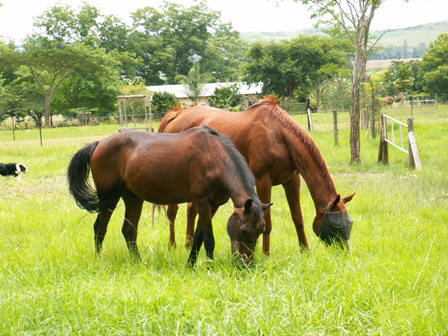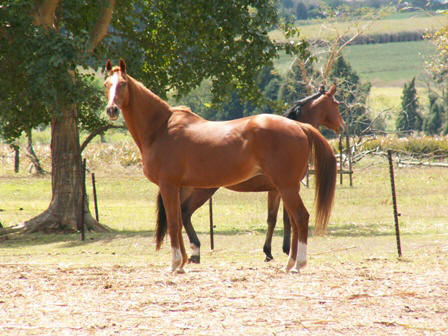 We have always maintained a strict policy on giving back to our old schoolmasters who have served us faithfully and wholeheartedly over the years - we are always happy to ensure that their retirement packages are as long and as peaceful as possible!
Most of them have been here forever; a number of of them are ours while others are lucky enough to have owners who allow them to live out their days on livery here at Nyanza.
CHEYENNE AND GYPSY LASS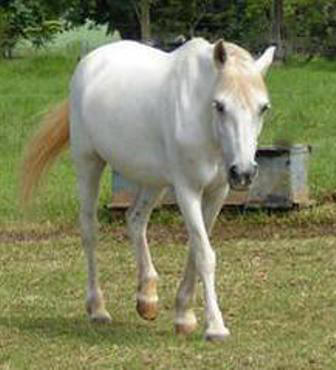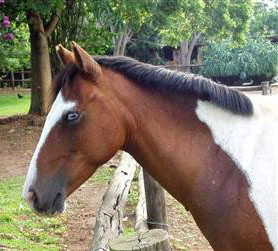 Both Cheyenne and Gypsy worked hard for us teaching and caring for our small riders and definitely earned their honourable retirement. Cheyenne started out with us as a rescue case, hence the cut off ears, whose owners had done so to identify her. She went on to be one of our best children's ponies. Gypsy's children have grown up and gone out all over the world, but have never forgotten her and the introduction she gave them to horses and riding.
Many children owe their love of horses and riding to these two ponies. They were so reliable we used to take them to the local Air Shows where we provided ponyrides; they would not flinch when the jets flew low overhead but safely carried their precious cargo come what may.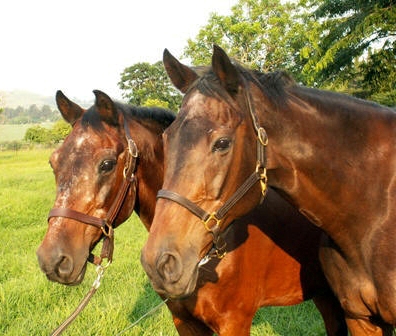 DUSTY, JETSTREAM, BEAT THE TALK AND CICOGNE
Are all old timers who have been here forever and also worked hard in their day, giving their owners and riders immense pleasure and pride. Dusty and Jetstream are the original lovebirds even at their age and always found together.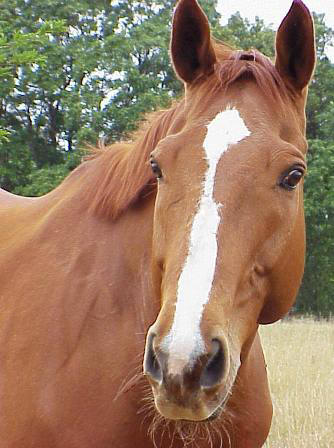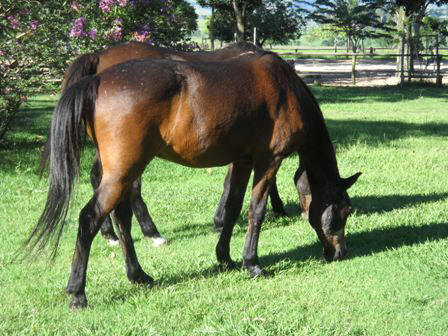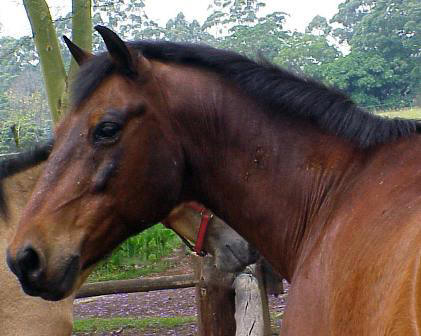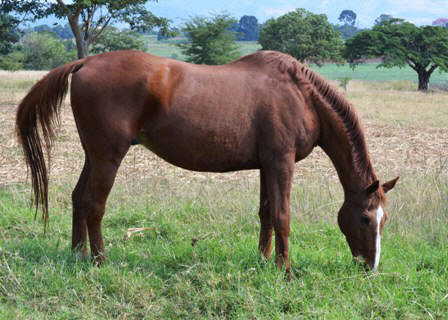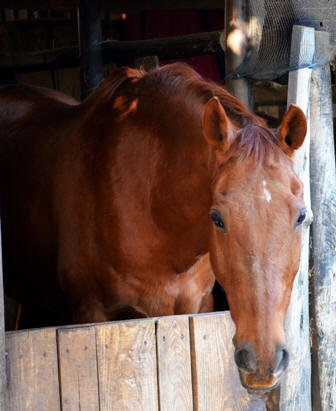 ---
Welcome to Nyanza Farm.htm / Why Stay at Nyanza.htm / Nyanza Guest Cottages.htm / Nyanza Family Lodge.htm / Around Nyanza Places to visit and things to do.htm / Nyanza and Swaziland General information.htm / Our farmyard animals and visiting children.htm / Our Dogs and Cats.htm / Latest Additions.htm / Nyanza Ethos and a few of our past rescue cases.htm / Nyanza and the Community.htm / Nyanza Jersey Dairy.htm / Our Riding School.htm / Meet our Horses.htm / Nyanza and Equestrian Competitions.htm / Our Stable Management and Liveries.htm / Contact Us.htm
---