---
NYANZA HORSE TRAILS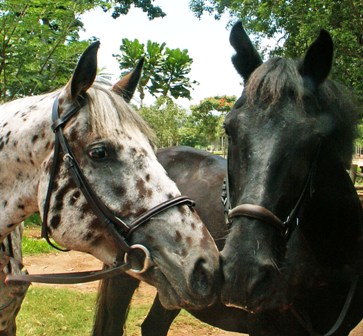 Experience Africa from the back of one of our horses!
Trails
The stables are open every day for Horse Trails and anyone can take part in the trails; we have a stable full of horses and ponies to suit all ages and abilities. Novices are welcome. We have kind well schooled horses that will give even the most nervous rider confidence.
The trails are a wonderful way to explore our country and see a view of it that you cannot possibly experience from a car! Our valley is beautiful and there are many wonderful rides we would like to share with you. There are many visitors who come to stay for the riding alone.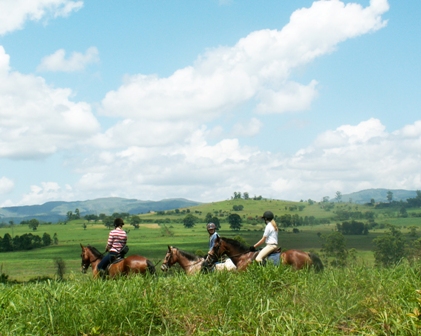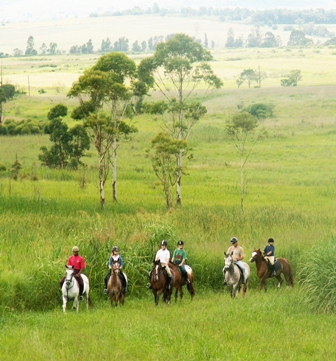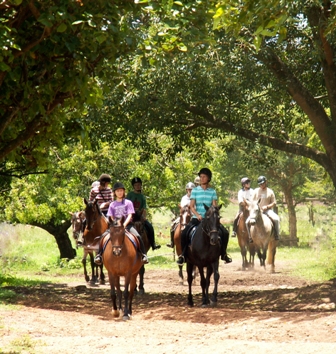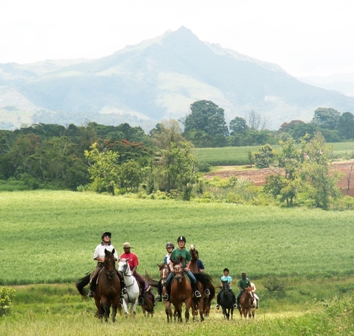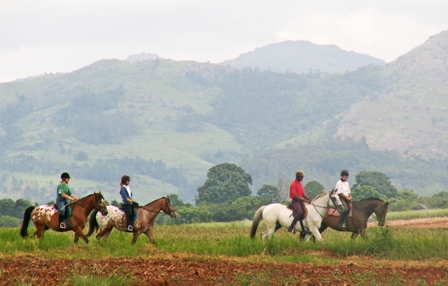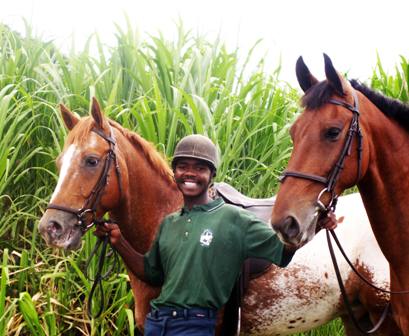 There are varying lengths of trails available, as well as pony-rides for the younger ones.
Each ride is accompanied by a trail leader, and a backup rider. Usually each party will go out with their own guides, rather than with another group as we try not to combine bookings.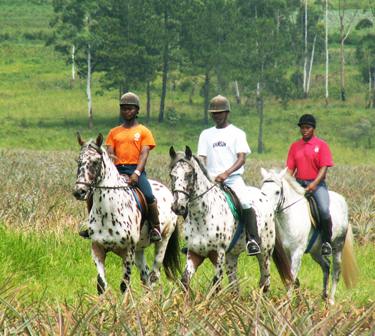 The speed of the ride is at the discretion of the chief guide but safety is always our primary concern and we do not do fast trails. Our trails are aimed rather at giving riders the opportunity to savour our beautiful scenery.
We try our best to avoid riding in thunderstorms because of lightening, although for those who are happy to do so we will ride in the rain as long as it is not cold, storming or raining hard.
We have a safety requirement that all riders wear a riding helmet whenever mounted. Riding hats are available from the stables on loan but preferably bring your own if you have one. The largest size we have is a 7 and 5/8ths, so those requiring a hat larger than this must please bring their own.
Please note that we do have a weight limit of 90kg.
If you would like to ride please speak to one of us about organising a time as it is best to book your ride early to avoid disappointment. We do need advance notice especially during our busier periods and for the longer rides.
When stating riding experience, please be totally honest about your ability, both for your safety and for your enjoyment of the trails.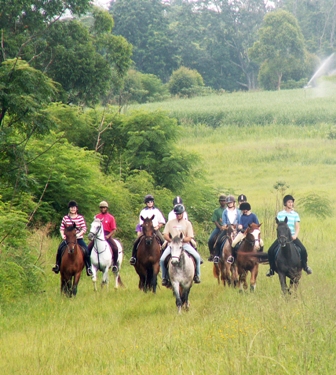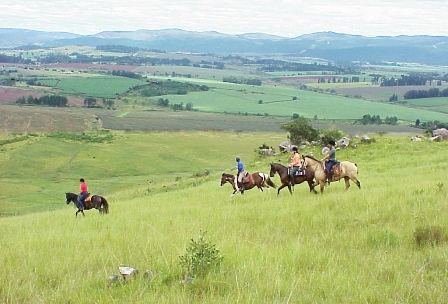 ---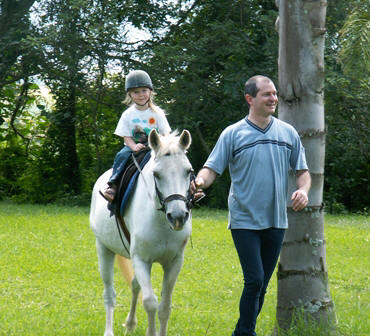 Pony rides
There are also Pony rides for the younger ones, where they are led on a gentle walk round the farm for 10-15 minutes. Our ponies are all very kind and it is the perfect introduction to riding a horse, giving them balance and confidence. It is also a novel form of entertainment for them that soon becomes a favourite!
We have many regular mini riders who love to come for an outing to the farm and a pony ride on their favourite pony.
---
Our Tack
Most of the horses are ridden in snaffle bridles with a drop, cavesson or flash noseband as they are well schooled and are obedient to the aids.
We have both English and Trail saddles available although most people prefer the Trail saddles on the longer rides for comfort sake.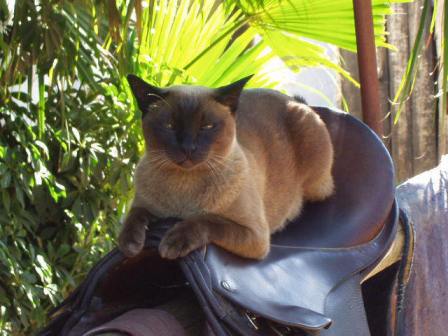 ---
Welcome to Nyanza Farm.htm / Why Stay at Nyanza.htm / Nyanza Guest Cottages.htm / Nyanza Family Lodge.htm / Around Nyanza Places to visit and things to do.htm / Nyanza and Swaziland General information.htm / Our farmyard animals and visiting children.htm / Our Dogs and Cats.htm / Latest Additions.htm / Nyanza Ethos and a few of our past rescue cases.htm / Nyanza and the Community.htm / Nyanza Jersey Dairy.htm / Our Riding School.htm / Meet our Horses.htm / Nyanza Horse Trails.htm / Nyanza and Equestrian Competitions.htm / Our Stable Management and Liveries.htm / Contact Us.htm
---